---
Akashi Sake Brewery is a small artisanal sake producer based in Akashi city, a fishing town in Hyogo prefecture in Western Japan. Hyogo is the traditional sake brewing capital of Japan, known for the best sake rice and pure water.
The signature range Akashi-Tai is true artisan sake, handmade in small batches by the Togi (or master brewer) Kimio Yonezawa and his close team of trusted craftsmen.

The sake is brewed using traditional methods, and only with the highest quality, locally produced ingredients.
---
Rice – and a deep understanding of every aspect of it.
The Toji Kimio Yonezewa is obsessed with retaining as much of the character of the rice varieties we use as possible. To achieve this goal, to find the true soul of the rice, he goes to great lengths and respects the most elaborate details.
He treats the rice with respect, uses the right water, and knows which variety to use at each stage of the process. He is meticulous and does not cut corners. For example, in their Daiginjos, Yonezewa and his craftsmen use 100% Hyogo Yamada-Nishiki both for Koji and for mashing, not just where they think it will be noticed most.
---
They brew using traditional methods – But traditional doesn't mean closed-minded, conservative, or anti-progressive.
The way to truly respect tradition is to keep it alive. To do that, Yonezewa and his craftsmen question and challenge antiquated methods. This requires strength of character to follow their own path, coupled with a profound respect for centuries of tradition and craft. Today's innovations are tomorrow's traditions.

---
"My mission is to make sake with character. Joyfully exuberant, generous and open-hearted sake.
Sake with depth, with flavour and aroma that lingers, enough to silence the table as that flavour keeps developing. Sake that can reveal the character of Hyogo's water, rice and yeasts, among the finest in Japan, and really let them shine. Sake that makes every gathering a celebration of the simple joy of a shared meal. Sake that will pair up with your favourite food and dance.
Because I live for that magical moment when food and sake become one, and both are amplified. The food reveals hidden depths in the sake, and the sake lingers and prolongs the pleasure of the meal."


---
Honjozo Tokubetsu is a traditional sake, made using high quality rice that has been lightly milled to remove 40% of the outer layer of the rice. Lighter in style than other sakes, this has a crispy, dry, and easy to drink style. A discrete nose with lime, lemon, and straw. The palate is dry with hints of citrus flavors. A smooth and well-balanced sake. Also available as a 300ml.
Koji Rice Varietal: 100% Hyogo-produced Gohyakumangoku
Rice Milling Rate: 60%
ABV: 15%

---
An undiluted sake from Akashi-Tai, fuller in body and with a more concentrated flavor. This is the drink the brewmasters reach for at the end of a working day. Full-bodied with a woody aroma, very rich. Creamy texture, with well-balanced flavors and hints of citrus fruits. Long lingering finish. Also available as a 300ml.
Koji Rice Varietal: 100% Hyogo-produced Gohyakumangoku
Rice Milling Rate: 60%
ABV: 19%

---
Junmai Tokubetsu begins with 100% Yamadanishiki rice grown in Hyogo Prefecture, which is polished until only 60% of the grain is left. This sake is lovingly handcrafted through every step of the process, from making Koji rice to hand bottling.
Akashi-Tai Tokubetsu Junmai is a traditional brew with a satisfyingly full-bodied flavor profile, clean and well-structured. Also available as a 300ml.
Koji Rice Varietal: 100% Hyogo-produced Yamadanishiki
Rice Milling Rate: 60%
ABV: 15%

---
Daiginjo Genshu is a luxuriously aromatic, medium-bodied sake made only in the mid-to-late winter months from the highest grade Yamadanishiki rice. This sake is perfect for both connoisseurs, and those who are just starting to discover.
A brew master watches over the koji for 72 hours – without sleeping – to ensure the absolute finest of sakes. A fruity fragrance can be detected amid the full-bodied flavor. Elegant aromas of honey, lily and pear. Delicate flavors of white flowers with a subtle hint of anise. Lemony dry finish. Also available as a 300ml.
Koji Rice Varietal: 100% Hyogo-produced Yamadanishiki
Rice Milling Rate: 38%
ABV: 17%
---
Made using the highly-prized Yamadanishiki rice, grown in a district of Hyogo. This fine rice is polished until only 38% of the grain remains, after which two full months are devoted to nurturing our Junmai Daiginjo Genshu sake to completion. Well pronounced nose with melon, lemon, bitter orange, green grass, and sage. Very nice balance of minerals, lemon, and bitter range flavors to give a long-lasting finish without ever overpowering. A sake you can keep drinking throughout a meal or a long evening with friends. Also available as a 300ml.
Koji Rice Varietal: 100% Hyogo-produced Yamadanishiki
Rice Milling Rate: 38%
ABV: 16%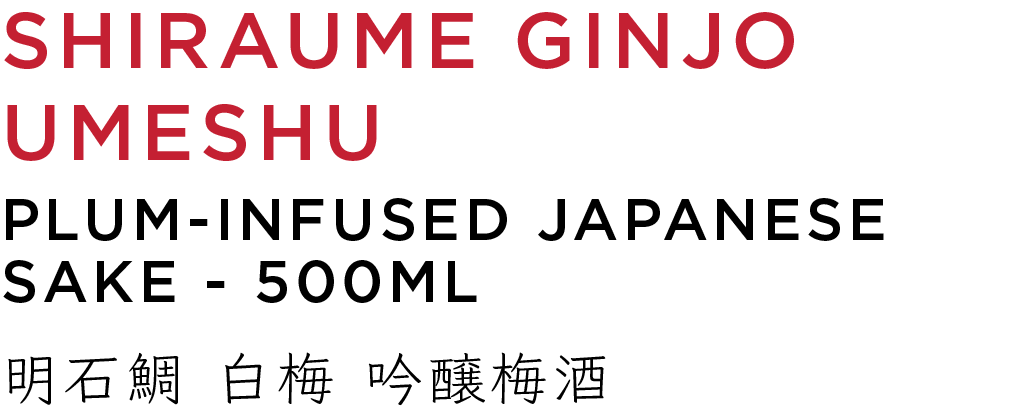 ---
A luxurious plum liqueur made with Shiraume, or white flower plums. The plums are preserved in the finest Ginjo sake, made from Yamadanishki rice. After being marinated for months, the fruits are removed from the tank, then Shiraume Ginjo Umeshu is left to age for two and a half years. Great as a base for cocktails. Available as a 500ml.
Nose: Dry fruit, date, cherry and plum.
Rice Milling Rate: Sweet with rich prune, almond flavors.
ABV: 14%


---
Akashi-Tai Sparkling Sake is bottle fermented to create a naturally carbonated sparkling sake. Perfect for celebrations, as an aperitif or with desert. With second fermentation this sake has preserved the zesty, fruity characteristics of freshly brewed Junmai Ginjo sake..
Koji Rice Varietal: Sake rice from Hyogo Prefecture
Rice Milling Rate: 60%
ABV: 7%
---